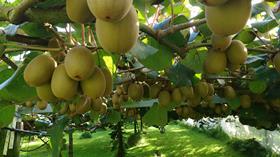 Zespri is set to launch legal action against at least one nursery in China as illegal plantings of its gold kiwifruit variety SunGold continue to grow.
According to a report from Radio New Zealand, the New Zealand-headquartered marketer believed there are now 4,000ha of unauthorised plantings of SunGold in China, up from 2,500 around six months ago.
Dave Courtney, chief grower and alliances officer of Zespri, told Radio New Zealand Zespri is monitoring the situation in China closely.
'A key thing we need to understand is the quality of the fruit they can produce there, because if it's high-quality and equal to what we produce out of New Zealand and our other growing locations then it's more of a threat than if it was a low-quality offering," Courtney said.
"Unfortunately, it looks like there is a good portion of orchards can produce good quality fruit."
Courtney said if the output of kiwifruit plantings such as these continued to grow in volume and quality, it could push Zespri's New Zealand and Italian grown kiwifruit off the shelves in China.
Zespri will use Plant Variety Right (PVR) law to slow plantings down but Courtney said taking this approach is more difficult in China, than in somewhere like New Zealand.
China recognises New Zealand's PVR law but authorities said they have to work smallholder farms that are growing the vines. As a result, Courtney said Zespri is interested in some sort of 'win-win'.
'Where they can work with us to help us mitigate the impact of the spread (of the vines) but they can also maybe add value to their local growers as well," Courtney explained.
However, he said Zespri is very much "at the start of the process" and there was a long wat to go before any decisions were made.
Earlier this year, Zespri won a legal case in New Zealand regarding IP infringement in China.