Kiwifruit marketer signs strategic cooperation agreement with leading distributors Joy Wing Mau and Goodfarmer to grow fruit sales by 50 per cent over three years
Zespri has announced new distribution and sustainability agreements in China that will see more of its fruit reach more cities in sustainable packaging in the coming years.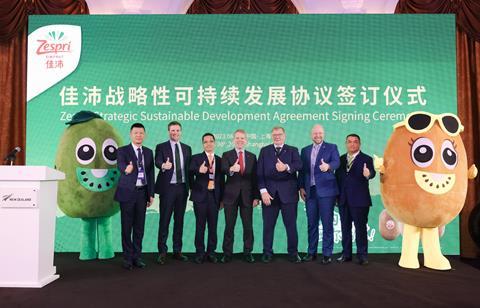 The deals were announced as part of a trade delegation that saw Zespri chairman Bruce Cameron and several New Zealand primary sector business leaders visit China with the New Zealand Prime Minister at the end of June.
The agreements included a strategic cooperation agreement with Joy Wing Mau and Goodfarmer – Zespri's two largest distributors in China – to increase fruit sales by 50 per cent over three years (through to 2025/26) and increase the number of cities covered from 60 to 90.
Zespri also signed a sustainable packaging agreement with Joy Wing Mau and Goodfarmer, as well as leading fruit retailers Pagoda and Xianfeng.
The agreement will see Zespri work with its Chinese partners on more sustainable packaging, with the aim of converting a third of Zespri consumer packaging (around 10,000 tonnes or 20m packs) to sustainable options by 2023.
By 2025/26 Zespri intends to transition all of its consumer packs to sustainable packaging as part of its commitment to having 100 per cent reusable, recyclable or compostable packaging by 2025.
The trip also included a visit to Wanjia City supermarket at Meijiang Unipark Shopping Mall in Tianjin where Zespri products in new sustainable packaging were on display at the high-end Chinese outlet.
New Zealand Prime Minister Chris Hipkins, minister of agriculture Damien O'Connor, officials from Goodfarmer and Fonterra were involved in the tour which included tastings of Zespri kiwifruit, with samples for consumers also being given out at the same time.