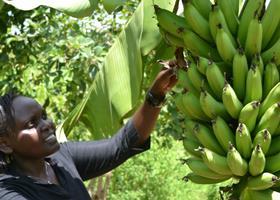 Key players in the African banana industry have expressed fears that the European Union could be set to lower even further tariffs on imports of the fruit from Latin American nations.
At a conference in Abidjan, Côte d'Ivoire recently, representatives of producers in banana-growing nations including Cameroon, Ghana and the host nation called on the EU to keep tariffs at existing rates, Reuters reported.
Exporters from African, Caribbean and Pacific (ACP) banana countries enjoyed preferential treatment over their Latin American counterparts for many year, before the EU decided in 2009 to slowly bring down tariffs - they will drop to €75 per tonne on 1 January next year.
While the EU did offer help in the form of some €200m to ACP exporters, it has not stopped a steady decrease in market share.
According to Reuters, banana industry players at the Abidjan meet said they were fearful recent trade discussion between the EU and countries like Colombia and Ecuador would lead to more tariff reductions, further hurting ACP competitiveness.
'The African, Caribbean and Pacific producers are worried about the constant weakening over the past few years of their access to the European market," Gervais Kacou, aa spokesman for an association representing African banana producers, told Reuters.