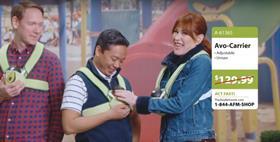 Avocados From Mexico hit the airways during the Super Bowl for the sixth consecutive year last night, with a 30-second commercial starring actress Molly Ringwald.
The advert, titled 'The Avocados From Mexico Shopping Network', was designed as a spin-off of infomercials, hosted by Ringwald and starring Mexican avocados..

The Pretty in Pink and Breakfast Club star plays a co-host where she provides viewers with the ultimate gifts to pamper their favourite fruit, including chip floaties, tracksuits and car seats.
The Super Bowl, which took place in Miami last night, is the culmination of the US National Football League season.
The game, which saw the Kansas City Chiefs defeat the San Francisco 49ers 31-20, is well-known for the cost of its advertising spots, with a 30-second advert reportedly costing upwards of US$5m.
Record
The Hass Avocado Board reported nearly 75m pounds crossed from Mexico last week, a record number and up about 3 per cent from the comparative week in 2019.
In 2018, Mexico exported 2.5bn pounds of avocados to the US, with then organisation expecting to see volumes continue to trend upward as they have since Avocados From Mexico were available throughout the US market and consumer demand grows.