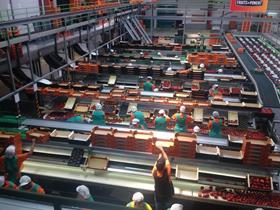 Catalan fruit association Afrucat has written a letter calling on the Spanish and Catalan governments expressing concern the sector has been experiencing in recent days in the supply of inputs.
With stonefruit harvests due to begin in the coming weeks, the association says it is vital for growers to carry out basic phytosanitary treatments in the field to protect trees from diseases and common pests.
Likewise, packhouses in the region have increased their activity by 75-150 per cent in recent days to cope with the sudden increase in demand, making the supply of packaging materials and technical services essential.
Afrucat noted that the supply of facemasks is also being restricted for government workers.
"Maintaining a continuous food supply is a basic provision under the state of emergency imposed by the government," said the association's president Francesc Torres.
"The authorities therefore need to ensure the free movement and supply of products, raw materials and basic materials for the fruit industry so that it can produce and supply fruit according to market demand and produce the new season crop in optimal conditions."
Other measures set out by the government to deal with the coronavirus outbreak include introducing more flexible documentation and customs procedures so that controls can be carried out at distance to protect inspection personnel and ensure the free flow of exports; and providing access to credit to facilitate cashflow.