Agap's president Alejandro Fuentes said protests are impacting investments and productivity of agricultural sector
Peru's president Dina Boluarte has extended the state of emergency in the capital, Lima, and in other parts of the country affected by protests calling for her resignation. Running battles between police and protesters have left some 50 people dead and hundreds injured.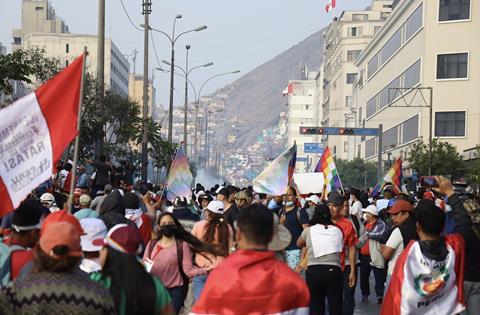 Road blocks are causing delays to fruit harvesting an packing as workers cannot reach farms, while produce being transported from the main growing regions to the ports also faces major disruption.
The Association of Agricultural Producers Guild of Peru (Agap) estimates losses to export crops including table grapes, blueberries, mangoes and avocados of around US$250m. It said investment in the agricultural sector had completely ceased since the onset of the political crisis.
Agap said it was continually monitoring the situation and would release further updates in the coming days.
"We deeply regret the human losses, as well as the dozens of fellow countrymen who have been injured in the demonstrations that have divided the country," Fuentes said in a statement.
"While people have a right to demonstrate peacefully, we strongly condemn all acts of violence and targeting of essential services such as airports, roads, health services, public institutions, private companies and citizens, which are generating a climate of terror that affects everyone socially and economically."
Agap said it backed the police and armed forces in their attempt to restore public order. It called for lawbreakers to be dealt with swiftly by the justice system.
"Today more than ever, Peru needs unity and social peace to get out of the crisis and resume the path of growth and well-being for all Peruvians," Agap said.
Both Fuentes and Agap's executive director, Gabriel Amaro, are calling for a lasting solution to be found to guarantee the safety of more than 150,000 employees in the sector.
They pointed out that Peru has managed to increase exports of fruit and vegetables year after year, despite the recurrent political disturbances in the country, which has seen six presidents pass in the last six years.
At the beginning of January, a number of large producing countries in Ica had to close for several days due to the road blocks. While activity on these farms resumed last week, the situation remains very tense.