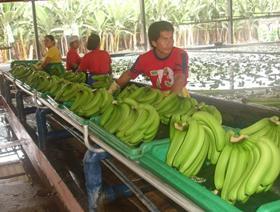 Agroban has become the first Ecuadorean banana company to invest in overseas ripening facilities with the opening of Agroban Nordic in Helsingborg, Sweden at the end of 2017.
The move allows the company to distribute its own-branded bananas directly in the European market.
The ripener has already received its first container of fruit from the María María farm, located in the province of Los Ríos.
Matz Fahlander, executive director of the Swedish company, said that the goal this year is to handle six containers per week from Ecuador.
The project is the result of a trade mission organised by trade promotion agency ProEcuador to Sweden three years ago.
After the visit, Pernilla Wingårdh, now director of marketing and sales of Agroban Nordic, travelled to Ecuador to meet with representatives of Agroban and they eventually became partners.
Gustavo Marún, president of Agroban in Ecuador, said a further two years of talks were needed to consolidate the project.
"We are convinced that we will find space in the market, not only because of the quality of our fruit, but also because it is socially, environmentally and economically sustainable," he said.
Wingårdh stressed that Agroban Nordic had created a new concept in the marketing of bananas in the Nordic region, providing a direct connection between producers and consumers to "help consumers learn more about the traceability of the product and the farms they come from".
Ecuador is the second biggest supplier of bananas to the Swedish market behind the Dominican Republic.
In 2016, Sweden imported US$21.57m of Ecuadorean bananas, while imports to October 2017 totalled US$33.5m.