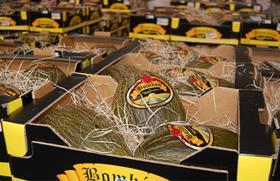 Spain's Agroponiente group anticipates a later-than-usual end to its winter vegetable campaign this year due to climatic conditions and strong demand on the international market.
With planning now well underway for the spring campaign, the group said it would work side by side with its growers to ensure a smooth transition from the winter season and the continuation of the good prices that have been the hallmark of the 2021/22 campaign so far.
"One more year, Agroponiente is going to bet on high-quality products, which allow us to obtain the most competitive prices possible for the farmer, with the clear objective of prolonging into the spring the good prices that we've seen so far this 2021/22 season," the company said.
In melons, the group will offer traditional varieties like Piel de Sapo, Yellow Honeydew, Cantaloupe and Galia alongside more innovative products including Gaya (Snowball), which it describes as a smaller, more manageable variety with a great flavour, that performs very well in consumer taste tests.
Likewise in watermelons, Agroponiente said black seedless variety Fashion will once again be prominent, as will other traditional varieties, while volumes of Kisy, the individual-sized watermelon, are set to increase.
Business director Antonio Román commented: "Once again this year, we will put all our experience at the service of the grower in this spring campaign.
"In view of how the year is evolving, we understand that it could be a good spring campaign if we all work in coordination and emphasise, once again, the quality of the product, the success when choosing melon and watermelon varieties, respecting the ideal harvest dates and responding quickly and efficiently to market demands.
Román said Agroponiente's technical and field teams had been working for weeks on planning together with farmers to ensure a successful transition.
"The joint work between the company and the farmer allows us to respond to market demands more accurately.
"This is a process that we have been repeating for many years, introducing constant improvements each year."