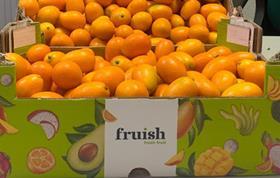 Agroponiente Group has unveiled a new brand for its rapidly expanding exotic fruit offer.
The Fruish range includes mangoes, papayas and avocados, as well the latest additions to the company's tropicals line-up, kumquat and pitahaya.
The group's conventional and organic exotics range has gone from strength to strength since its launch a year ago and today it is able to offer customers avocados and mangoes year-round by sourcing from different production areas.
Today it also markets pitahayas grown on its own farms, as well as kumquats produced by contracted growers in Andalusia.
Agroponiente has made significant investments to convert its main facility in El Ejido into the centre of its tropical fruit operation. The packhouse is equipped with specialised machinery, allowing the company to pack the fruit in a variety of formats for its European customers.
The Fruish brand is now being rolled out across the company's main markets including France, Belgium, the Netherlands and Germany.
Francisco Javier Ruiz, Agroponiente's head of tropical fruit, said: "In just one year we have put together a group of suppliers in Colombia, Morocco, Mexico, Peru and the Dominican Republic, among others, and established a close relationship with national producers.
"This has enabled us to build up a varied customer portfolio and means we can face the future with optimism based on sustained growth.