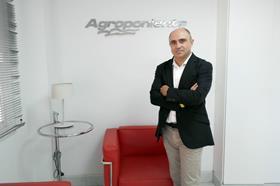 Covid-19 and the economic crisis will define the 2020/21 Spanish fruit and vegetable campaign, but opportunities will arise and companies will have to react swiftly in order to make the most them. This is the view of Jorge Reig, CEO of Spain's Agroponiente Group, one of Spain's biggest fruit and vegetable export consortia.
Having completed an ambitious investment programme over the summer, Reig says the group is well positioned to deal with the challenges ahead and has started the new campaign with great enthusiasm.
"A few months ago there was a lot of doubts over the Covid issue but we believe that things are clearer now. In this sector, every season is different and each presents its own challenges," he says.
Besides the usual ambiguity over the climate and its impact on the crop, Reig points out that producers are facing a big unknown: how the pandemic and its economic fallout will affect consumption in global markets.
"We've already seen demand in the foodservice channel fall, and even though retail sales are up, overall has been a slight decrease in overall market demand, which may have repercussions on prices," Reig notes.
"We also need to be aware of the economic crisis, which will vary in intensity in each country. The last recession had a huge impact on higher value products, such as organics. But curiously, Covid has had the opposite effect and demand for organics has increased – in the case of the UK market, for example, it is up 19 per cent."
What is clear, Reig says, is that companies must be prepared to move a lot of volume very quickly, so flexibility and adaptability will be crucial. "The market is going to permanently surprise us – this is going to be a year of consolidation and repositioning and we will need to act fast because opportunities are going to arise," he explains.
With a brand new, state-of-the-art packhouse in El Ejido, a new logistics hub in Adra and soon-to-be-opened warehouse in águilas, where it recently set up a new production base for peppers and tomatoes, Reig believes the group has the solid infrastructure in place to be able respond to the expected market volatility and improve its services to grower and customers alike.
The investments are possible thanks to the group's takeover in 2019 by Barcelona-based private equity fund Abac Capital, which has given it the financial muscle to fast-track its international growth strategy.
At the same time, the group continues to expand its product portfolio, specifically with the introduction of new tropical fruit lines, and by giving greater prominence to speciality tomato lines.
Equally important, Reig notes, has been the company's continual focus on training up its workforce in order to ensure that it is equipped to provide the best possible service to its customers.
"All this serves to underpin our commitment to quality," he says. "If you talk to customers, or with the market in general, it's clear that the quality demands placed on producers are increasing.
"We need to adapt our products to what the market and consumers are asking of us, and what they are asking for is higher quality, in the product itself, its presentation and specifications.
"Ultimately, we also want to have the best growers and make sure that they are happy to work with us."
Enjoyed this free article from Eurofruit Magazine and its team of editors? Don't miss out on even more in-depth analysis, plus all the latest news from the fresh produce business. Subscribe now toEurofruit Magazine.