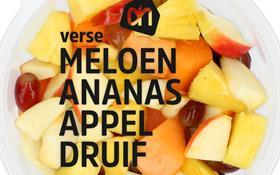 Albert Heijn says it is the first supermarket in the Netherlands to start closed-loop recycling of the plastic used to make its fresh fruit packaging.
The new material, which is PET made from household waste, will be used for the grocery chain's 550g fresh fruit salads from the end of February.
That product range alone accounts for more than half a million plastic punnets per year, according to the grocery chain.
"Together, we want to make better food accessible to everyone by encouraging a healthy lifestyle, but also by combating wastage of food and packaging," says Henk van Harn, director of merchandising and sourcing at Albert Heijn.
"We have ambitious packaging targets. We are looking at whether we can use less plastic and are looking for possibilities for reuse. I am therefore proud of this innovation."
The new material is the only type of plastic made from recycled waste that can be used as food packaging.
Until now, only PET bottles could be used in its production, while other PET containers used for vegetables or meat had to be converted into non-recyclable coloured plastics or used outside the food chain.
The new, transparent tray-to-tray packaging was developed in collaboration with plastic recycling company Umincorp and packaging producer Hordijk.
It consists of 40 per cent recycled PET, of which at least half is household packaging waste.
Albert Heijn says it aims to use at least 50 per cent recycled PET and to cut its packaging material usage by 20,000 tonnes, all by 2025.
By that time, all of its own-brand packaging will have to be fully recyclable.
Over the past four years, it adds, more than 9,000 tonnes of packaging material have been saved at Albert Heijn through the elimination, reduction or alteration of packaging materials.