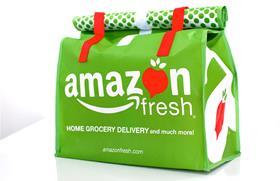 Amazon has launched its fresh produce home delivery service in Spain. Amazon Fresh, which promises same-day delivery will initially be available to Amazon Prime customers in Madrid and the surrounding area.
But the online giant said it hoped to be serving millions of Amazon Prime customers throughout Spain by the end of the year.
Through Amazon Fresh, customers can buy more than 10,000 products, including fruit and vegetables, meat and dairy, toiletries and household items, for same-day delivery.
Amazon is the latest company to join Spain's burgeoning online grocery retail market, which has seen sales surge since the onset of Covid-19. It will compete with traditional retailers including Mercadona, El Corte Inglés, Aldi and Carrefour among others.
Prime customers can alsobuy groceries in Día stores, which already stocks more than 7,000 Amazon items.
"We are very pleased to expand our fast delivery service for food, beauty and personal care products, as well as other categories, with the launch of Amazon Fresh," said Camille Bur, head of Amazon Fresh in Spain, France and Italy.
"We are always looking for ways to improve theonlineshopping experience."