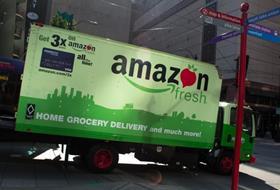 Amazon.com is to build a private fleet of trucks for its expanding online grocery delivery business, AmazonFresh. According to a report in trade publication DC Velocity, the new fleet would be used to deliver groceries and other merchandise and help the online retailer to substantially reduce its shipping costs, which in 2012 totalled US$5.1bn.
Launched five years ago, AmazonFresh is currently available in Seattle, San Francisco and Los Angeles, but it is believed the online retailer plans to roll out its grocery delivery business to 30-40 US markets in 2014. Between them, these markets make up approximately half of the entire US population.
Reports in the US press suggest that Amazon plans to serve these markets with the private fleet, while non-grocery deliveries to all other markets will continue to be handled by carriers such as FedEx and the US Postal Service.