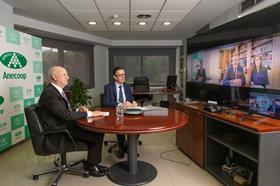 Anecoop directors held a virtual meeting with the King and Queen of Spain last week to discuss the key role of national food producers during the coronavirus pandemic.
During the meeting, managing director Joan Mir outlined the strategic value of agriculture "as a strong and independent sector that allows us to face situations like the present one without having to rely on third countries to feed ourselves".
He said the time has come "to support responsible research and communication as key elements to strengthen the sector ".
The company also presented its latest marketing campaign, Slices of life for the field, based on the values that represent the rural environment and agriculture, one of the main economic engines of Spain.
The campaign was unveiled last month at the launch of the new season for Bouquet seedless watermelons, one of Anecoop's most emblematic products.
"With this campaign we want to communicate to society that, by choosing our fruit and vegetables, they are contributing to giving life to the countryside, avoiding its abandonment and fighting against a larger emptied Spain," said president Alejandro Monzón.
"It is vital that farmers continue living in the countryside so that future generations of producers have a future that is as stable, consolidated and adapted as possible to new times."
During the webinar, Anecoop also had the opportunity to present to royal couple the measures it has put in place to guarantee the safety of its workforce during the pandemic.
The king and queen also had the opportunity to convey their gratitude to all of the group's producers for keeping the country supplied with produce during the crisis, and offer support and encouragement for the future.
Anecoop represents 25,000 growers grouped into 71 cooperatives and markets its products in 83 countries through its network of commercial offices in Europe, China and the US.