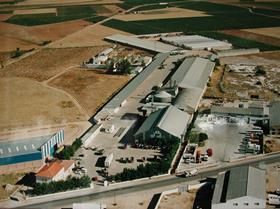 Ciudad Real-based Santiago Apóstol de Tomelloso has become Anecoop's 71st cooperative member and the first in Castilla-La Mancha to join the group as it continues to extend its coverage throughout Spain.
Santiago Apóstol produces around 22,000 tonnes of produce a year, of which melons and watermelons account for 80 per cent, and vegetables and cereals the remaining 20 per cent.
All of the company's products are cultivated using integrated production, minimising the use of chemicals with the aim of achieving zero residue. The cooperative also holds several quality certifications including GlobalGAP, IFS and Organic Farming.
"We had already been working closely with Anecoop for many years, so joining the group seals our alliance with the aim of growing and sharing useful synergies for both entities," said Santiago Apóstol's president José ángel Serrano Lara.
"This important step will allow us to continue gaining competitiveness and dimension, reinforcing our strength."
Anecoop president Alejandro Monzón, said the deal "expands our presence in the main Spanish production areas, as we now have partners in 12 provinces spread across six autonomous communities, allowing us to expand our business calendar and our offer".