With shipments on course to exceed US$1.4bn this season, blueberries are Peru's number one agricultural export
Peru is on course to export a record 287,000 tonnes of blueberries worth US$1.4bn, this season making the fruit the country's top agricultural export in terms of value.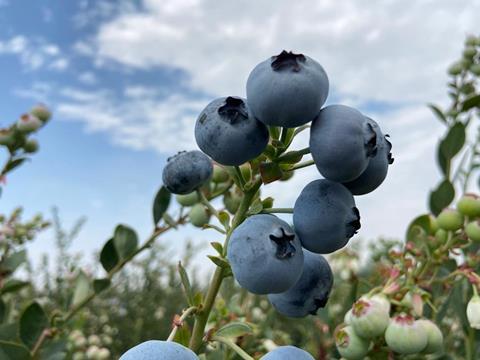 Organic blueberry shipments reached a record high of 35,000 tonnes, accounting for 12 per cent of Peru's total export volume.
Speaking at the XIV International Blueberry Seminar, which took place in Lima this week,
Luis Miguel Vegas, general manager of trade body Proarándanos, said he was confident shipments would exceed 300,000 tonnes next season.
Vegas said it had been a challenging season due to price pressure caused by oversupply in Europe, together with increased production and freight costs and political and social unrest at home.
He pointed out that the sector will have to expand its promotional activities in key markets like the US and China to prevent further price erosion as Peru's blueberry output continues to grow.
"Nine per cent of Peru's organic blueberries go to the US, and for next season we expect organics to account for 15 per cent of our total blueberry output, "Vegas said.
Peru exports more than 20 varieties of blueberries to more than 30 markets worldwide.
In recent years, the authorities have worked hard to open new market as its blueberry production has grown. Negotiations are currently underway to access Indonesia, Japan, South Africa, South Korea, New Zealand, Vietnam, Argentina, Bolivia, the Dominican Republic, Ecuador and Australia.