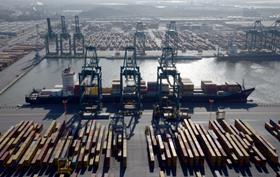 The Port of Antwerp has revealed that total throughput for 2020 amounted to 231m tonnes of cargo, a fall of 3.1 per cent compared with the previous year.
Thanks to what it called 'buoyant' container throughput rates, which set a new record, the port was able to limit the overall decline in throughput.
'Compared with most other ports in the Hamburg-Le Havre range, the port held up very well despite a year dominated by coronavirus and other trade tensions,' the port stated. 'The investment in pioneering projects relating to energy transition, digitalisation, and mobility have also laid solid foundations for a sustainable future.'
Container throughput once again saw higher volumes, with 12m TEUs exceeded for the first time in 2020, equating to growth of 1.3 per cent year-on-year.
In 2020, 13,655 seagoing vessels called at Antwerp, representing a 5.1 per cent decrease compared with 2019. The gross tonnage of these vessels fell by 5.2 per cent to 394m.
The Port Authority said that Antwerp had 'demonstrated its resilience in 2020', progressing in terms of greener energy, digitalisation, and mobility through various pioneering projects.
"We were caught up in a storm in 2020, but we stayed upright,' explained Jacques Vandermeiren, CEO Port of Antwerp. 'The port has even set another record in container throughput. This enabled us to limit the damage due to losses in other segments and to present better figures than other ports.
'It will not be smooth sailing in 2021 nor will it be predictable, but we are stronger than before,' he added. 'Despite the crisis, we were more forward-looking than ever in 2020, in terms of energy transition, mobility, and digitalisation. I am convinced that our ambitious projects...will really be major game changers within the next ten years.'
Port Alderman Annick De Ridder called 2020 an 'unprecedented year of extremes' with many unexpected challenges and rapid changes, but also resilience.
'In 2021, we will continue this momentum with our submitted relaunch projects such as the pipeline network that can be a key in the energy transition and attention for the railways,' De Ridder outlined. 'In short, we are emphasising resilience, transition and sustainable growth. By taking our lead together with our partners, we confirm and perpetuate our position as a world port.'