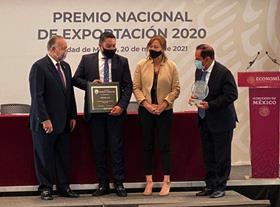 The Association of Producers and Packers of Avocado of Mexico (APEAM) has received the National Export Award by the Mexican government for its role in promoting foreign trade.
At a ceremony last week, APEAM's president, Gabriel Villaseñor and treasurer, José Luis Gallardo, received the award on behalf of the sector's 30,000 growers and 67 packing companies from the Secretary of the Economy, Tatiana Clouthier Carrillo.
Clouthier praised the efforts of the sector in "providing employment, attracting investment and making Mexican avocado exports a success in the global market".
"Exporters are, without doubt, the iconic image of Mexico abroad, we are the first reference and one of the visible faces of what is produced and made with quality in the country," said Villaseñor.
APEAM said the award would bolster the efforts of thousands of small farmers to continue producing fruit of the highest quality, using research and technology to grow more in a smaller area.
"It also reinforces the industry's commitment to continue on the path of caring for and protecting the environment, to continue to stand guard in the actions of our green agenda, as well as in meeting the United Nations' Sustainable Development Goals of the 2030 Agenda," the association continued.
This is the second time that APEAM has won the prize, having previously received the award in 2010.
Mexico exported more than 1.1m tonnes of avocados to 34 countries worldwide in 2020.