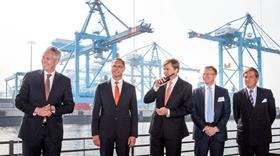 APM Terminals hosted a celebration attended by The Netherlands' Monarch King Willem-Alexander, and 500 senior representatives from the global shipping industry and world governments in honour of the official opening of the new APM Terminals Maasvlakte II Rotterdam facility, the world's most technologically advanced and environmentally sustainable container terminal.
CEO Kim Fejfer said: "We are honoured to officially dedicate our new terminal with you today. APM Terminals Maasvlakte II is clearly a game-changer port in the shipping industry designed to exceed our customers' expectations. It is significantly safer for our people and all users of the port. It runs on a zero emissions, sustainable business model using renewable energy, benefitting the people of Rotterdam and Europe. And, equally important, our shipping line customers will experience 40 per cent higher productivity – thanks to automation."
The Maasvlakte II Rotterdam facility ushers in a new era in port innovation. It is the world's first container terminal to utilise remotely-controlled STS gantry cranes to move containers between vessels and the landside fleet of 62 battery-powered Lift-Automated Guided Vehicles (Lift-AGVs) which transport containers between the quay and the container yard, including barge and on-dock rail facilities.
The Lift-AGV's also represent the world's first series of AGV's that can actually lift and stack a container. A fleet of 54 Automated Rail-Mounted Gantry Cranes (ARMGs) then positions containers in the yard in a high-density stacking system. The terminal's power requirements are provided by wind-generated electricity, enabling terminal operations, which produce no CO2, emissions or pollutants, and which are also considerably quieter than conventional diesel-powered facilities.
The facility, constructed on land entirely reclaimed from the North Sea, has been designed as a multi-modal hub to reduce truck traffic in favour of barge and rail connections to inland locations. Construction began in May 2012, with the first commercial vessel call in December 2014.
The 86 ha deep-water terminal features 1,000 metres of quay, on-dock rail, and eight fully-automated electric-powered Ship-to-Shore (STS) cranes, with an annual throughput capacity of 2.7m TEUs, representing an APM Terminals investment of €500m. At planned full build-out, the terminal will cover 180 ha and offer 2,800 metres of deep-sea quay (19.65m depth), with an annual throughput capacity of 4.5m TEUs.

"The future of terminal operations is safer, high-volume, high-productivity performance," said Fejfer, adding "We are pleased to welcome that future here today."