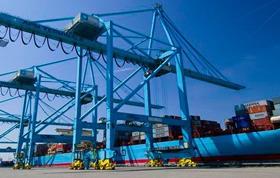 APM Terminals has been named as the operator of a new container transshipment terminal at the Tanger Med 2 port complex in Morocco.
The group already operates the APM Terminals Tangier facility at Tanger Med 1 port, which started operations in July 2007 and handled 1.7m TEUs in 2015.
The new terminal will have an annual capacity of 5m TEUs, and total investment in the new terminal is expected to be €758m.
According to the group, Maersk Line will be an important customer of the new terminal, which is scheduled to open in 2019, under the terms of a 30-year concession agreement with the Tanger Med Special Agency (TMSA) which has responsibility for the development and management of the Tanger Med port complex.
The Tanger-Med port complex is strategically located on Africa's northwest coast near the mouth of the Mediterranean Sea on the Strait of Gibraltar, where the Atlantic Ocean and Mediterranean Sea meet.
Tanger-Med is the second-busiest container port on the African continent after Port Said, Egypt, and the new APM Terminals MedPort Tangier terminal will increase the port's total annual throughput capacity to over 9m TEUs.
APM Terminals MedPort Tangier will feature state of the art technology and have up to 2,000 meters of quay length, featuring the technology pioneered at the APM Terminals Maasvlakte II Rotterdam terminal which opened in 2015.
The group will create a new organisation in Tangier, adding a large number of new jobs and be responsible for the completion of the terminal yard, surface, buildings, container handling equipment, and integrated automated systems. The quay wall construction and site reclamation for the first 1,200 meters has been completed by the Tanger Med Port Authority, which is part of TMSA.
"APM Terminals has been in Morocco since the creation of our first company APM Terminals Tangier in March 2005 in partnership with AKWA Group and the start of port operations in July 2007,' said APM Terminals CEO Kim Fejfer. 'Today's announcement shows our strong commitment to investing in trade and improving supply chains in the West Med market. Morocco and its port arm, TMSA, have been very supportive of APM Terminal's vision for the West Med. APM Terminals MedPort Tangier will bring important innovation and future capacity into the West Med market on one of the world's most strategic seaways – the Strait of Gibraltar.'