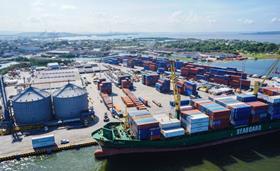 APM Terminals and Colombian-based port and terminal operating company, Compañia de Puertos Asociados (Compas) have signed a joint venture agreement to jointly manage and operate Compas's existing multipurpose Cartagena Terminal.
The two companies will jointly invest over US$200m in upgrading and expanding the Cartagena Terminal, including state-of-the-art terminal equipment. The upgrade will triple annual throughput capacity for the terminal to handle the larger vessels transiting the widened Panama Canal.
While Compas will continue to be the concession holder, APM Terminals will hold a 51per cent majority share in the joint venture that will run the facility. The transaction is subject to compliance with the necessary formalities with the relevant authorities.
"Colombia represents one of the most promising investment opportunities in the region and we are pleased to participate in the country's ongoing economic growth and development. Cartagena has enormous significance in South America ports and this JV underlines APM Terminals growth and investment plans," said APM Terminals CEO Kim Fejfer.
The Compas Cartagena Terminal has an annual throughput capacity of 250,000 TEUs and 1.5m tonnes of general cargo. It becomes the sixth operational Latin American facility within the APM Terminals Global Terminal Network, which includes interests in operating port facilities in Callao, Peru; Buenos Aires, Argentina; and Santos, Pecém, and Itajaí, Brazil. APM Terminals' Latin American interests handled an overall combined container throughput of 2.1m TEUs in 2014.
"APM Terminals has an impressive heritage in the port business and continues to transform operations. We are excited to partner up with them and expand our business here in Colombia," commented Alberto Jimenez Rojas, president of Compas.
Headquartered in Bogotá, Compas was formed as a joint venture between Grupo Argos (a Colombian conglomerate with investments in the infrastructure, cement and energy industries) and Southern Port Holding (formed by the Colombian Echavarría Obregón family and Spanish-based Ership). As well as being a major terminal operator in Colombia, it also has terminal interests in Houston, Texas and Panama.
"Compas has the service reputation and expertise in Cartagena and Colombia that ideally fits our Latin America partner strategy and port development ambitions. We look forward to working with them on developing the Cartagena terminal further," added Joe Nicklaus Nielsen, VP and global head of container business development at APM Terminals.
Cartagena, located at the northern tip of South America on Colombia's Caribbean coast, was the second-busiest container port in South America in 2014, and the fifth-busiest in the Latin American/Caribbean Region, with a throughput of 2.23m TEUs, trailing only Balboa and Colón, Panama; Santos, Brazil and Manzanillo, Mexico in container volume. The Port of Cartagena's annual container volume growth rate was 13 per cent from 2013 to 2014. Total Colombian port container throughput was 3.35m TEUs in 2014, ranking third, after Brazil and Chile.
The Colombian economy, the third-largest in South America, after Brazil and Argentina, at US$642bn, has averaged better than a 4 per cent annual growth rate since 2010, and has been projected by the IMF to expand by 3.4per cent in 2015 and 3.7 per cent in 2016.
APM Terminals has two new deep-water terminals under construction in Latin America at Moín, Costa Rica, and Lazaro Cardenas, Mexico.