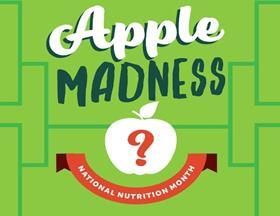 The US Apple Association is aiming to raise the profile of the varieties available to US consumers by setting up the first 'Apple Madness' tournament, designed to coincide with National Nutrition Month in March.
Apple Madness sees the Association is encourage people to pick their all-time favourite apple as part of a bracket tournament – a five-week, five-round online competition spotlighting 32 varieties and fresh health facts.
The US Apple Association, the Washington Apple Commission and apple industry members are encouraging people to visit the campaign website to vote for their favourite varieties, including veteran varieties such as Gala, Fuji, Red Delicious, and Granny Smith, along with rising stars such as Honeycrisp and Pink Lady.
The first round features all 32 apples seeded in 16 match-ups, with people voting on each match-up while learning about healthy apple research. Top apples from week one advance to the 'Vitamin-C Sixteen' round, followed by the 'Edible Eight' round, the 'Fiber Four' round and, finally, the 'National Chomp-ionship'.
Throughout the tournament, participants can enter to win a host of apple-related prizes from Borton Fruit, Chelan Fresh, Knouse Foods, Michigan Apples, New York Apple Association, Pennsylvania Apples, Red Jacket Orchards, Sage Fruit, Tree Top, and the Washington Apple Commission.
"We are excited to participate in this contest with the US Apple Association as it will be a great way to involve both our domestic and international consumers in a fun US sports tradition," said Lindsey Huber, international marketing specialist at the Washington Apple Commission.