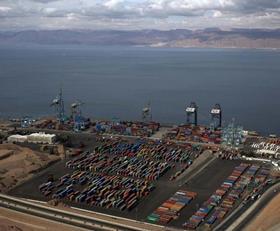 Jordan's port of Aqaba, which stands as the second largest container port on the Red Sea, is reportedly looking to build ties with the Iraqi business community to promote the port as the ideal gateway for products on their way to Iraq.
According to the IMF, Iraq is forecast to grow by 11.1 per cent this year and by 13.5 per cent in 2013.
Amin Kawar, vice president of operations at the Aqaba Container Terminal (ACT), commented: 'Our port facility in Aqaba is the smartest, safest way to get goods in and out of Iraq.'
CEO Soren Hansen, meanwhile, described Jordan's only port as "an efficient, cost-effective option for businesses moving cargo throughout the Levant".
"Our growth at ACT is heavily driven by the trade to and from neighboring counties, including Iraq," Hansen continued."We are seeing more and more businesses in Iraq and Saudi Arabia now viewing Aqaba as a long-term, sustainable element in their supply chain."
In 2011, transit cargo handled at ACT rose by 63 per cent to over 100,000 TEUs. A US$235m terminal expansion project is set to be completed next year, increasing the yearly container throughout capacity to a projected 2m TEUs.