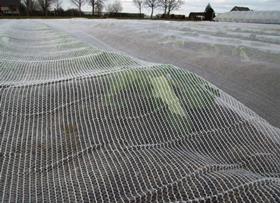 Protective agriculture textile specialist Arrigoni has introduced Arricover, a new bioclimatic screen that offers protection against adverse weather conditions such as frost.
Arricover, developed specifically to protect crops from the cold, is described as a 'strong, transparent, breathable textile'.
The product is designed to provide lightweight, durable and effective protection for crops including cabbages, turnips, leafy greens, carrots, leeks, garlic, chicory, beetroot, parsley, strawberries, tomatoes, cucumbers and melons.
In addition, Arrigoni said the product can be used for potato growing, both to protect the crop against late frosts and to bring forward the production cycle.
Field tests prove successful

According to the group, numerous field tests have proven Arricover's efficacy on a variety of crops.
'In particular, it has been tested on onion and leek in the Netherlands and on potatoes in Slovenia and Italy (Apulia region),' Arrigoni outlined.
'The tests have revealed that this agrotextile's transparency, combined with the breathability typical of knotted mesh fabrics, enables optimal gas exchange to create a dry, more frost-resistant habitat. Moreover, the barrier effect generated by Arricover holds the water on its surface and not on the crop, reducing frost damage.'
Arricover's breathability allows light to pass, creating 'ideal conditions' for photosynthesis, while the fabric's permeability prevents the formation of condensation and damp, which would favour the development of fungal and other diseases.
The bioclimatic screen also protects against wind and insects and birds, Arrigoni noted.