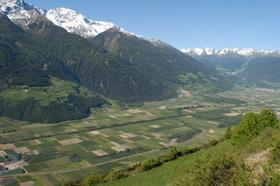 The Trentino-Alto Adige region in northern Italy provides all the essential elements for the production of high-quality apples, according to the Italian Association of Apple Producers (Assomela), including its unspoilt nature, majestic mountain ranges, unique and distinctive climate, and the rocky and mineral-rich soil of the Italian Alps.
European quality and sustainable agriculture are the two central pillars of 'Know Apple', the three-year European communication and training campaign of Assomela. The aim of the campaign is to train those working in the sector, and eventually consumers, on the world of Italian apples in order to make them more aware and informed when making purchases.
Training includes general knowledge of the apple sector in Europe and Italy and the production system of Trentino-Alto Adige, production methods, control and traceability, and apple 'care' at the point of sale, including shelf-life.
Training activities carried out last June and August in South Tyrol also involved professionals belonging to Spanish group Eroski - Vegalsa.
In Italy, two training courses and study trips were held, with 16 fruit and vegetable retail managers getting training. During these study trips, the two South Tyrolean producers' organisations, VOG (Marlene) and VI.P (Val Venosta), gave professionals a first-hand glimpse of the region's production.
The programme was divided into three main stages: classroom training, visits to apple orchards and tours of the processing centres. During the classroom sessions, participants were able to draw on theoretical notions supported by dedicated in-training materials. A "Tasting Moment" was also organised to teach attendees how to distinguish the flavours and appearance of different apple varieties.
Visits to the apple orchards look place during the harvesting period, providing an opportunity to get to know and experience this delicate phase, accompanied by expert farmers offering guidance on the traditions and production methods that have made South Tyrol the most important production area in the country.
The cooperatives demonstrated to the visitors how the fruit is stored, selected, processed and packed using state-of-the-art facilities equipped with the most modern technologies and machinery on the market.
In the coming months, consumers will be kept abreast of many of these aspects thanks to the information materials produced as part of the European campaign. Through these tools, consumers will get to hear news, information and insights about the complex world of Italian apples, as well as on European quality and the sustainable production methods in use.
Due to the success of the 'Know Apple" campaign, further study trips and training sessions are reportedly being considered before the end of the year.