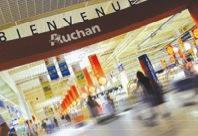 French retailer Auchan has announced an increase in sales for 2007 with economic progress in central and eastern Europe.
Sales excluding VAT rose by 5.8 per cent to €36.7bn for the year, while hypermarket sales increased by 6.7 per cent to €29bn.
However, supermarket sales were less robust due to a mixture of increased competition and economic slowdown, particularly in France and Italy.