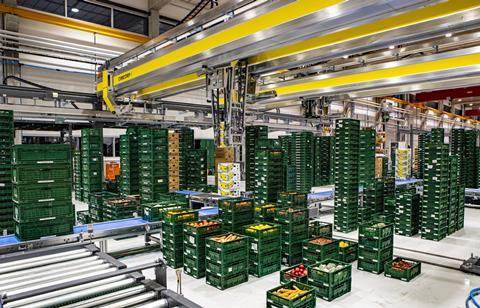 Error-free, automated order picking and precisely temperature-controlled zones for products including fresh fruit and vegetables are two of the standout features at an enormous new distribution centre being constructed for German retailer Edeka.
The new centre, located in Oberhausen to the north of Düsseldorf, promises to reach a whole new level in terms of efficiency, serving around 800 branches in the Edeka Rhein-Ruhr catchment area that is home to about 14m people.
With such a large number of outlets and customers to supply each day, order management has to be precise and punctual, explains Peter Bayer, project manager for logistics and organisation at Edeka Oberhausen.
Helping the group eradicate mistakes that lead to delays is Cimcorp, the Finnish company responsible for installing advanced robotic systems and software in the facility's fresh produce areas.
"For us, efficiency, costs and ergonomics were decisive when we decided on Cimcorp as an experienced automation provider for our fruit and vegetable distribution," says Bayer.
"Since millions of people rely on the safety of their food, everything from the field to the table has to be perfect. We expect an extremely high availability of fresh products from Cimcorp, as these are extremely time-critical and sensitive."

Kai Tuomisaari, Cimcorp's vice-president of sales, adds: "When dealing with food, and especially with perishable products, accuracy and reliability are essential. The simplest rules of first-in-first-out methods add up in securing consumer safety. Automation also secures employee safety, because robots do all the heavy lifting and repetitive tasks that often lead to debilitating injuries."
Clean and safe
According to Tuomisaari, the creation of different temperature zones for fresh, frozen, and dry goods will ensure the perfect climate for reliable food handling.
"The order includes several independent automation modules controlled by Cimcorp software, which integrates various technologies into a seamless system," says Tuomisaari. "If one module is out of service for a while – for example, when cleaning is performed – the other modules run independently to ensure a reliable material flow."

Overhead gantry robots will handle food crates that are stacked on the floor, which eliminates the need for expensive shelving systems and ensures the food is handled safely.
"Even with the most modern and safest handling of fresh food, you cannot avoid some perishable parts like stems, leaves or individual grapes from leaking out of the crates,' Tuomisaari explains.
'With Cimcorp's solution, all of this is noticed on the floor and is easy to see – therefore easy to clean. During cleaning, crates can be moved to another module or stacked under the gantry robot to clear the floor."
Opening soon
Edeka Rhein-Ruhr, one of seven regional companies belonging to the group, is on track to open the new facility in Oberhausen towards the end of 2021.
The company is investing a total of €200m to build what will be its largest ever distribution centre.
This might seem like a lot of money, but Edeka Rhein-Ruhr has achieved phenomenal growth in the past decade and a half: between 2004 and 2018, its sales increased from around €2bn to €5bn.
"With the logistics centre in Oberhausen, Edeka Rhein-Ruhr is preparing for the future," explained managing director Thomas Kerkenhoff when building work began back in October 2019. "We are developing the infrastructure here to supply the merchants in our cooperative efficiently and reliably. We are not only creating additional capacities, but are also adapting the delivery areas and shortening routes."
Once completed, it will cover a total of 90,000m2 – the equivalent of almost 13 full-size football pitches.
Served by over 400 trucks per day, it will supply 400 Edeka branches, as well as 400 stores operating under other group brands in North Rhine-Westphalia.
In the future it will offer space for around 16,000 different dry, frozen and fresh product lines, most of which require different temperature zones.