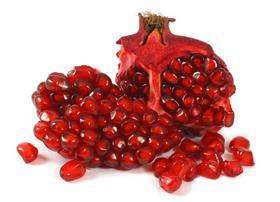 Azerbaijan is close to exporting its first pomegranates to four EU countries, Germany, France, Latvia and Poland, according to Shahin Hasanli, secretary of the Pomegranate Producers and Exporters Association.
Negotiations were underway, Hasanli stated, noting that pomegranate exports were expected to grow by 20-25 per cent this year.
The main export destination for the Azerbaijani pomegranate remains neighbouring Russia, according to AzerNews. However, despite tough competition on the European market from North Africa and southern Europe, Azerbaijan sees great potential in Europe for its pomegranates, not least since they are produced organically.
The aim of the Pomegranate Producers and Exporters Association, which was established in October 2016, is to provide services and support to farmers interested in growing pomegranates, as well as to promote pomegranates across the world under the 'Made in Azerbaijan' brand.
The Association represents pomegranates on local and international markets, encouraging the greater use of advanced technologies in production and the supply of high-quality raw materials.
In Azerbaijan, the pomegranate is known as the king of fruits, and the Azerbaijani pomegranate is recognised worldwide as one of the best, thanks to the country's unique microclimate and fertile soil. Azerbaijan is the only country where all varieties of pomegranates grow, thanks to its diverse climate.