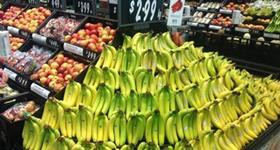 BanaBay has signed a deal to supply one of New Zealand's biggest supermarket chains with its branded bananas following a successful trial at the end of last year. From this month, the Ecuadorean company is sending four containers a week to Countdown, which is owned by Woolworths and operates 161 stores through New Zealand.
BanaBay is targeting its bananas at the premium market and said the fruit has been well received by shoppers, who showed a preference for its brand over other alternatives.
"Maintaining a clear line of communication with the customer while being flexible and responsive, we were able to turn a trial into an ongoing contract which encompassed competitive pricing alongside consistent quality and continuity of supply," BanaBay's Mark O'Sullivan said.
The company now plans to start a trial programme of its branded pineapples with Countdown.
"The MD2 Golden variety pineapples which have GlobalGAP accreditation are grown on plantations adjacent to the bananas and once again BanaBay can promise all the advantages of direct sourcing to specify size, colour, brix and acidity as well as to guarantee consistency and continuity of supply," O'Sullivan said.
A trial container of BanaBay pineapples is expected to arrive in New Zealand within the week.