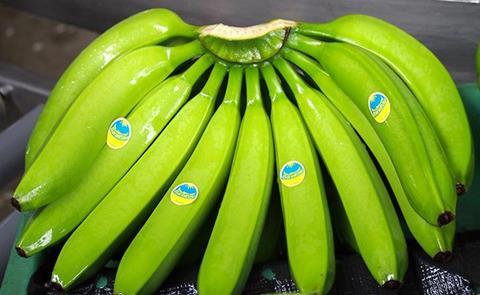 Ecuadorean banana supplier BanaBay has said it is confident it can secure its first deal to supply BanaBino-branded baby bananas to a customer in China.
The company is currently running a test programme supplying one container a week to Double D Trade, a Seattle-based company, which then exports the fruit to China and Korea.
"Chinese consumers are very enthusiastic about the mini bananas because of their handy portion size and it also means you can fit nearly double the number of bananas in a container," the group said in a press release.
"For example, a standard container can take 1,760 boxes of baby bananas stacked on pallets and up to 2,100 boxes without. This compares to 1,080 boxed conventional on pallets and 1,200 without."
BanaBay said it hoped the success of the trial shipments would lead to it becoming a key supplier of baby bananas to China.
Meanwhile, the group has also revealed it has secured a new contract with a major customer in the Middle East.
The Hussain al Qurashi Group, a leading food business which operates in Saudi Arabia and the United Arab Emirates, sourcing produce from around the world and redistributing it throughout the Middle East and Indian sub-continent, recently took delivery of four containers of premium BanaBay bananas.
The importer apparently sees an opportunity to market premium-quality Ecuadorian Bananas under a high-quality brand in the region.
"This is an exciting new partnership in Saudi Arabia which again demonstrates the expanding reach and development of the BanaBay brand across the globe," commented Harley Williams, business development manager at BanaBay.