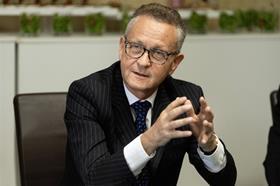 The supervisory board of German group BayWa has unanimously appointed Klaus Josef Lutz as chairman of its board of management for another term until 31 March 2025, extending his contract from 31 July 2022.
'With this decision, the supervisory board of BayWa clearly underscores its confidence in the chairman of the board of management, and in doing so ensures the necessary continuity in the successful work of the company's upper management.' said Manfred Nüssel, chairman of the supervisory board of BayWa. 'This is very important to the supervisory bodies, especially in view of the major challenges we see lying ahead of us.'
Lutz joined BayWa as CEO in 2008, with particular emphasis placed on the international growth of the group in order to continue positioning itself well in the face of expanding globalisation.
Since 2008, revenues generated by BayWa have increased from €8.8bn to over €17bn in 2019.
The group outlined that Lutz and BayWa's focus in the coming years would be on the further successful expansion of business in the fields of renewable energies, pushing ahead with digitalisation in all business divisions and on the targeted development of agricultural specialities trading.