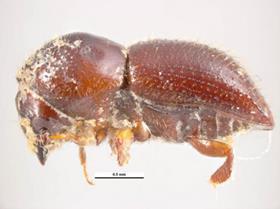 A minute beetle which has already caused damage to trees in South Africa's leafy cities, is now sparking concern in the fruit sector.
The beetle, called the polyphagous shot hole borer (PSHB), carries disease-causing fungi and is threatening tree life in South Africa, boring holes into the trunks of mostly healthy, living trees where it cultivates a fungal garden to feed on.
Hortgro told growers it is in the final stages of securing funding for a new research project that will look at the ability of the fungus carried by the beetle to infect deciduous fruit trees, as well as common windbreak tree species.
Elsewhere, concern has been expressed over the vulnerability of the avocado sector to damage from the beetle.
Several agricultural crops cultivated in South Africa are reported to be hosts, although they are mostly non-reproductive hosts of the beetle.
Scientific papers have noted that avocados are highly susceptible reproductive hosts. They note that avocado production in Israel and California has been significantly affected by this pest. In South Africa, backyard avocado trees have been found to be infested in Sandton and Knysna.
It has not yet been found in any commercial avocado orchards, altough there has been an infestation at a commercial pecan orchard in the Northern Cape, as well as a single pecan tree in Nelspruit.
PSHB has already created widespread havoc among trees in Gauteng and was observed in the Western Cape earlier this year. A chemical, which proved to be effective against the beetle, was recently registered by Pan African Farms, but experts warned that objective, independent research is needed before it can be considered a solution.
Hortgro says that over the past few months it has been approached by concerned producers about the infection risks associated with the PSHB, following the discovery of the beetle in Somerset West.
"Although there is currently no sign of the beetle in deciduous fruit orchards, the close presence of the beetle makes producers uncomfortable," Hortgro says.
Matthew Addison, crop protection manager at Hortgro Science, the deciduous fruit industry's research unit, sees the infection risk in a serious light.
"The reality is that there are a lot of questions and we don't have the answers; that alone necessitates research."
Addison says there is a risk for the deciduous fruit industry linked to the beetle's distribution. "The research we are going to do will be coordinated at a national level between provinces, with different universities, as well as the government."