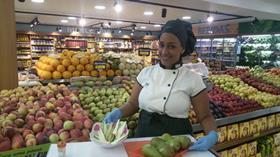 Since the Belgian Conference pear gained access to the Brazilian market in the autumn of 2017, a total of 1,800 tastings have taken place in the country's supermarkets, according to Flanders' Agricultural Marketing Board, VLAM.
At the end of August, the Conference pear made an appearance for the third successive year at PMA Fresh Connections Brazil in São Paulo, Vilt.be reported.
"Participation here has strengthened our activities in Brazil and was in line with the European project Taste of Europe Brazil,' VLAM stated.
The Belgian Conference pear was represented by the BelOrta and BFV auctions.
'This conference focuses on the fruit and vegetable market in South America in general and the opportunities for Brazil in particular," VLAM said. "We were here for the third time with a promotional stand for Conference pears. Being present at the conference strengthens our activities in Brazil and fits within the framework of the European project, Taste of Europe Brazil. "
Participation in PMA Fresh Connections took place in the context of the three-year campaign that is 80 per cent co-financed by Europe, Taste of Europe Brazil.
"This is an information and promotional campaign that should make Brazilians enthusiastic about the Belgian Conference pear," VLAM stated. "The focus of the campaign is on tastings on the shop floor."
During the event, visitors were informed of the Conference pear's versatility, allowing the fruit to be enjoyed either hard or soft, depending on the consumer's preference.
The current Taste of Europe Brazil campaign is set to end in January 2020. "Last spring we submitted a project proposal to the European Commission to extend the campaign for another three years," VLAM said. "We expect feedback on this resubmission at the beginning of October."