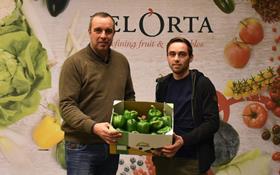 The first green bell peppers of 2020 were auctioned at Belgian cooperative BelOrta this week, supplied by producer Lentsche Heyde and purchased by Fruithandel Roelandt, with yellow and red peppers set to be available from week 11.
Approximately 2,000 tonnes of green peppers were delivered to BelOrta in 2019. While the cooperative's production area for ​​green and yellow bell peppers has remained stable, the area for ​​red peppers has increased by 9 per cent compared with last year.
Sweet peppers remain one of BelOrta's top products, in part due to their versatility. "They are used by consumers in both Flemish classic dishes and Mediterranean cuisine, as well as in salads, soups, sauces and wok dishes," says the company's Glenn Philips. "They are also tasty grilled in the oven or on the barbecue."
BelOrta not only offers standard varieties of bell peppers (green, yellow, red and orange), but also all kinds of specialties. These include sweet pointed peppers, baby peppers for snacking, spicy varieties like the Jalapeño, Piccantina and Habanero, and organic bell peppers, which will be available in a few weeks' time.