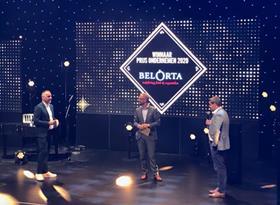 This year, Voka, the Chamber of Commerce Mechelen-Kempen in Belgium, presented its annual Entrepreneurship Award to fruit and vegetable cooperative BelOrta.
Since 1987, Voka has used the prestigious prize to highlight companies that distinguish themselves through innovation, international entrepreneurship, sustainable business operations and, above all, continuous ambition.
In a statement, the cooperative responded to the announcement: "We owe this award to our constant striving to redesign the standards in the fruit and vegetable landscape, our commitment to continue to provide the domestic consumer with delicious, healthy and surprisingly enjoyable products, even in these hectic times, and above all to the daily dedication of our employees and producers."
BelOrta CEO Philippe Appeltans said that the award would have a significant multiplier effect in Flanders, Belgium and internationally and welcomed recognition of the hard work of BelOrta's 400 employees and 1,050 affiliated producers.
"For the very first time in its rich history, this prize has gone to a cooperative business," he said. "This is a wonderful reward for the hard work of all those involved and the perfect motivation to take a step further in the future towards an amazingly enjoyable fruit and vegetable world."