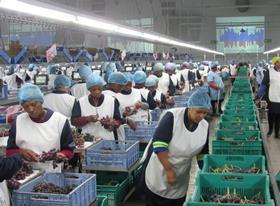 The late black seedless category in South Africa, certainly as far as production in the biggest production region, the Hex River Valley, is concerned, will come under close scrutiny this winter following the experiences of the past season.
The Hex contributed around 20m cartons to this year's South African export crop.
According to growers, heavy rain midway through the harvest this year in the Hex River Valley caused concern about the future of some black seedless grape varieties.
The Hex is already dominated by the red seedless category, which accounted for 69 per cent of deliveries last season.
In recent years some growers have invested in considerable plantings of late black seedless varieties and it was hoped that some of them would help growers to increase exports to the eastern markets in particular.
One of them, Sweet Sapphire, which boasts unusually long berries, performed well for the first few years.
"However, this year the rain truly 'rained on its fortunes'," said Leon Viljoen, a leading grower. He added that a number of growers had already decided to replace the variety.
Another variety that proved to be susceptible to rain, and should therefore not be planted in areas where rain is a possibility, is Melody.
Both Sweet Sapphire and Melody are already 15th and 16th respectively in terms of importance of the varieties produced in the Valley.
"These days one needs to act very quickly in cases where varieties prove to be problematic and replace them," said Viljoen.
He stressed that these varieties may do very well elsewhere and where this happens growers will invest in them.
"We also need to make sure that production stays in balance with market demand – at present the black seedless category is struggling to grow," he added.
In South Africa the black seedless category has declined from 6 per cent of the total in 2014/15 to only 2 per cent last year.
On the other hand, the red seedless category continues to grow – from 34 per cent in 2014/15 to 485 last year.