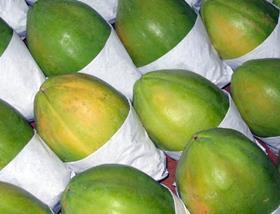 Brazilian fruit exporters are targeting new trade opportunities in the Middle East. Speaking during a trade mission to the United Arab Emirates las week, Jorge de Souza, project manager of Brazilian fruit producer and exporter association Abrafrutas said he had found significant demand for Brazilian produce in the country.
"Even though the market is quite segmented according to socioeconomic income levels, they all seem to enjoy the tropical fruits Brazil grows," de Souza told Agência de Notícias Brasil-Arabe.
The trade mission, which included representatives from 10 Brazilian fruit exporters, was organised by Abrafrutas in conjunction with the Brazilian Trade and Investment Promotion Agency (Apex-Brasil ) as part of the industry's internationalisation project Frutas do Brasil, with the support of theArab Brazilian Chamber of Commerce(ABCC).
The trip aims to open up new markets for Brazilian fruit, thereby reducing the country's dependence on exports to the European Union, the UK and the US.
"These three destinations account for over 75 per cent of our exports, so developing new markets is crucial for the industry as this concentration runs too great a market risk," de Souza said.
The Middle East was chosen for its climate conductive to fruit consumption and its current low share of exports from Brazil.
"The goal is to get closer to importers in order to better understand competitive relations, who are our main competitions, to seek out cost-reducing logistics solutions, and most importantly understand what the Arab client prefers when it comes to quality, fruit size, flavour and cultivars," de Souza continued.
Rafael Solimeo, head of the Dubai office of the Arab-Brazilian Chamber of Commerce (ABCC), said although Arab buyers appreciated the quality and competitiveness of Brazilian fruit, logistics were a barrier for imports and an issue that needed to be resolved.
Representatives of ten Brazilian fruit firms took part in the trip. The group has also visited Brazil and Arab pavilions at the Expo 2020 Dubai, including the UAE's, Bahrain's, Morocco's, Egypt's and Saudi Arabia's to better understand the culture and workings of each country in establishing ties.
De Souza said the ultimate goal of the mission to the UAE was not to agree sales, although this could still happen.
"Connections have been made, and it's likely that by the end of the mission we could even sell, taking orders here due to the connections the ABCC have given us," he said.