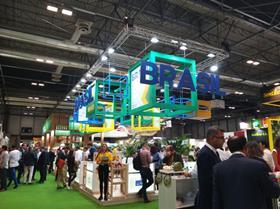 Brazilian fruit association Abrafrutas hosted a visit by Foreign Affairs Minister Carlos França to one of the country's most important fruit production regions, the São Francisco Valley, this week.
The sector is pushing for a swift conclusion to negotiations on the Free Trade Agreement between Mercosur and the European Union in a bid to further invigorate the country's fruit exports, which reached a new record in 2021.
França, who was accompanied by the president of the Brazilian Trade and Investment Promotion Agency (Apex-Brasil), Augusto Pestana, toured farms and met with several producers, who stressed the importance of reaching a deal to eliminate tariffs on shipments to the EU.
"Grapes are one example. When we export to the European community, we pay between 8 per cent and 14 per cent tax. Other exporting countries such as Chile, Peru and South Africa pay nothing, which is unfair," Abrafrutas president Guilherme Coelho told Agência Brasil.
"As soon as the Free Trade Agreement comes into force, this import duty will drop to zero, with the exemption gradually applying to other fruits sold to the EU."
The parties also discussed the importance of opening new markets. "The Agriculture Ministry already supports us in negotiations, breaking down health barriers and on a range of other issues, but the Ministry of Foreign Affairs can help us identify and communicate with other countries that want to import our products," Coelho said.
Brazil exported a record 1.24m tonnes of fresh fruit in 2021, an increase of 18 per cent on the previous year. Export earnings grew 20 per cent to US$1.21bn.
The leading products sold in the international market include mangoes, melons, grapes, limes and papayas.