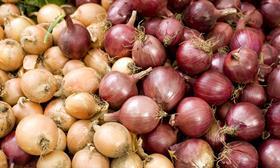 Reusable Plastic Container (RPC) specialist Ifco has announced that Washington state-based Bybee Produce has agreed to extend its use of Ifco RPCs for its dry onion products through 2020.
"Ifco RPCs have proven to be an ideal packaging solution for our dry onions," said Jason Walker, general manager of Bybee Produce. "They help us deliver high quality produce to retail customers and their shoppers throughout the year."
Bybee, a family owned and operated farm in the Columbia River Basin in Washington, uses more than 130,000 RPCs yearly to pack and ship yellow, white, red and organic onions to retail locations throughout the US.
According to the group, Ifco's RPCs are designed to facilitate maximum airflow during shipping, an important benefit that helps keep Bybee onions in peak quality from the farm to grocery retail locations.
"Our customers are like family and we are pleased Bybee Produce, a family owned and operated business, has agreed to continue the RPC partnership with Ifco," said Dan Martin, president of Ifco North America. "We value our relationship with Bybee and know our collaboration will benefit both companies in the months and years to come."