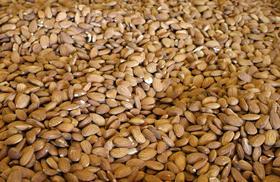 California's current almond crop has overcome trade, logistics and Covid-19 challenges to set new records and the year is not even finished.
The Almond Board of California (ABC)said in its May 2021 report the Californian industry had shipped 99,336 tonnes (219m lb) in May, a record for the month. This brought the total for the crop year (1 August to 31 July) to 1.11m tonnes (2.45bn lb), surpassing the full year record in just ten months.
Richard Waycott, president and chief executive of ABC, said production had increased to meet consumer demand.
"This shows continuing high demand for California almonds among consumers around the world," said Richard Waycott.
"People love almonds because they're a remarkably sustainable plant protein, they're versatile in a range of cuisines, they have outstanding health and beauty benefits, and they're delicious."
California's almond exports have grown in-step with the record level of production. Overall exports through the first ten months of the 2020/21 crop year have increased 20 per cent year-on-year.
India has become the first market to exceed 136,077 tonnes (300m lb) of imports with shipments up 54 per cent year-on-year to 146,056 tonnes (322m lb) in May.
Asia was another key market for California's almonds with overall exports to the region up 46 per cent year-on-year through the first 10 months of the crop year. Exports to China/Hong Kong were up 72 per cent year-on-year despite tariffs while exports to Korea and Vietnam were up 42 per cent and 132 per cent respectively.
Almost all European markets also showed growth with Germany, Spain, the Netherlands and Italy leading the way as overall European imports grew 18 per cent.
"The worldwide appetite for almonds and our range of products continues to grow," Waycott said.
"Almonds outpaced all other nuts in new product introductions ranging from dairy alternatives and snacks toconfectionery, bakery and bars.Our industry members have done a terrific job of moving the current crop and meeting the demand from consumers here in the US and around the world."