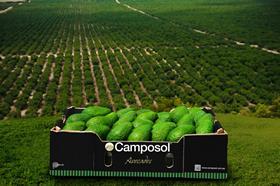 Camposol has become the latest company to adopt AgroFresh's new plant-based edible coating, VitaFresh Botanicals, to increase the shelf-life of ripened avocados exported to Europe, the US and China.
VitaFreshBotanicalsis aproprietary,plant-basedportfolio ofsolutionsfora wide variety of crops including avocados, citrus and mangoes.Its coating rangeuse "anti-thirst" technology to boost the skin's natural protection,creatinga "double skin" membrane that reduces dehydration, maintains weight and locks in produce freshness throughout thesupply chain.
Camposol said the coating would add two to four days of extended shelf-life to its avocados after arriving at retail locations, giving retailers a better opportunity to market the best quality produce and increase consumer satisfaction, while reducing food waste and potentially generating up to 200 per cent retailer ROI.
"This new strategic relationship represents another step forward inAgroFresh'sdecades-long commitment to providing innovative solutions to help our customers extend produce shelf life, and deliver superior eating experiences to consumers," said AgroFresh CEO Jordi Ferre.
"It also represents a major step in our diversification efforts.By using AgroFresh's VitaFresh Botanicals coatings, Camposol can extend the shelf-life of its ripened avocados, improve produce quality throughout their supply chain, and enable retailers to sell more great tasting, ready-to-buy and ready-to-eat avocados."
José Antonio Gómez Bazán , managing director of Camposol International, said the company chose VitaFresh Botanicals after conducting extensive trials because it achieved the technical performance and efficacy that it needed.
"What's more, as a global company, AgroFresh can support our global expansion and offer the post-harvest expertise and in-depth technical and R&D support that we need to attain our business objectives," he added.
For easy application of the coatings, Camposol will install AgroFresh's Control-Tec Applicator equipment at its European and US facilities, with plans to add equipment in China. VitaFreshBotanicalscoatingsare sustainableand created using certified ISO 14001"environmental management system" standards.