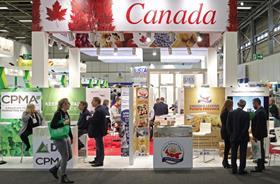 Fresh fruit and vegetable exports from Spain to non-European countries grew 16 per cent year-on-year through the opening four months of the year, driven by demand in Canada and China.
According to data from the Department of Customs and Special Taxes, processed by Fepex, export value to non-European nations hit €210m for January-April 2019.
Exports to Canada stood at €34.5m, up 4 per cent on 2018, making it the leading non-European destination for Spain's produce.
This is no surprise, as for the full year of 2018 Canada lead the way for non-European export markets with shipments totaling €93.4m.
Chinese imports of Spanish produce rose 15 per cent through the first four months of 2019, up to €29.1m, while the US came in third place, with exports booming 80 per cent to €22.1m.
Other key non-European destinations for Spanish produce were the UAE, with exports up 4 per cent to €18.3m, and Saudi Arabia, rising 31 per cent to €17.5m.