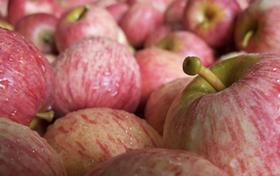 As the new South African apple campaign begins in the east, exporter Cape Five has delivered the first Royal Gala of the season.
Meanwhile, on the other side of the world, the company has offered humanitarian aid to refugees from the Ukraine by delivering a container of fruit to agencies.
Wayne Mudge, CEO of Cape Five, said the donation to refugees was a gesture to assist those in need.
"The war disrupted normal trade and we had to divert some fruit,' he explained. 'It is only right that we delivered some fruit to the refugees."
Mudge is also chairperson of the Fresh Produce Exporters' Forum (FPEF) and he said that members had been encouraged to make contributions where possible.
"My understanding is that fruit is still flowing to Russia and that exporters are also still receiving their money,' he confirmed.
It was reported earlier that around 50 per cent of the South African pears originally earmarked for Russia this year may not be exported to the country.
Anton Kruger, CEO of FPEF, said that where possible exporters had been encouraged to join the humanitarian programme.
Chinese shipments
Mudge said Cape Five had enjoyed a good start this season with early shipments to China.
"These shipments were Royal Gala from the Free State growing region, which had been followed by fruit from the Western Cape,' he confirmed. 'Our first fruit arrived in the market at the beginning of March. This was the first new season South African apples in China for 2022."
Royal Gala will be followed by Fuji from the Free State. "The campaign this year is building on the work that our team in China, Cape Five Shanghai Trading Limited, has done to create greater penetration in the market and build relationships with key customers,' Mudge continued. 'We hope to significantly grow our apple volumes into China this year."
For pears, Cape Five will start shipments as soon as they are giving the green light to start exporting to China.
"We are optimistic that we can leverage our existing customer base to build a good demand for South African pears in China. Certainly, our customers are eager to test the different varieties that are available from South Africa."
Logistics remains a big challenge, particularly getting regular sailings to the Far East.
"Our ports need to show a dramatic improvement for this to happen,' Mudge noted. 'But ironically what is playing in our favour is the geographical position of South Africa. This means despite all the challenges, we are ideally placed, compared to both our Northern and Southern Hemisphere competitors, to serve the eastern markets, both in terms of cost and transit times."
It was hoped that the other Southeast Asia and Far East markets will show a recovery in demand that seemed to suffer during the Covid pandemic.
"Growth in exports to China has brought a better balance in the whole region, as it is less likely that only one market will be targeted for a particular variety,' he outlined. 'I am thinking how for years a big volume of Fuji was directed at Taiwan, from South Africa, New Zealand and Chile, resulting in over supply and market collapse.
"We expect to see continued growth in the Asian markets in the future and is a strong focus for our company,' Mudge added. 'We hope that we will continue to see support from out government to help achieve this growth."