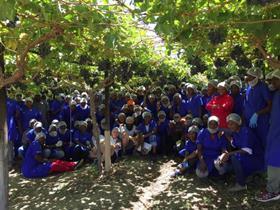 Capespan Namibia and its table grape growing partner in the country has achieved BRC accreditation for its field packing operations in Aussenkehr.
It makes it the first ever field packing operation for table grapes in the world to have achieved this distinction.
Field packing is a concept which is well-known in California and has been trialled in Namibia for some years. Some Namibian producers have claimed that it is an efficient and cost saving operation which could be successfully used in the country.
Now Capespan Namibia, which has a long term management agreement with the Namibian Grape Company, has announced that it has achieved success with the field packing method.
Its BRC accreditation also shows that the high standards of BRC can be achieved in field packing operations.
Capespan Namibia says 18 varieties are packed in three accredited packhouses for exports to clients in the UK, the European Union, the Middle East, Far East and Africa.
"In 2017 a field pack operation was launched at the new development and there are now 80 packing stations in the vineyard, where around 320,000 cartons are being packed this season.'

Capespan says it is very proud of the field pack teams and the management of Capespan Namibia with this achievement.