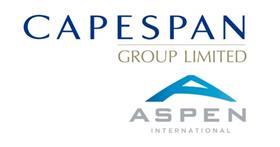 Capespan has followed up its recent announcement of a strong set of first-half financial results, by revealing that it has acquired a 75 per cent stake in Aspen International Services Ltd.
The South African company noted that the move, which will see it pick up Gary van Niekirk's 75 per cent stake in Aspen, would help Capespan strengthen its supply chain service offering.
Mariaan Rademan, the managing director of Aspen, will retain her 25 per cent shareholding and will continue to lead the new consolidated supply chain business as part of the Capespan Group.
Meanwhile, the newly formed company will be rebranded and an official launch of the new name and corporate identity will follow, assuming the transaction gains regulatory approval. The company will continue to conduct its business from its current premises located at the Tyger Valley Waterfront in Cape Town.
Capespan noted that Aspen has a reputable track record in the clearing and forwarding fraternity, specifically for the facilitation of direct fruit exports from South Africa, boasting a long-serving, dedicated team and management with offices in Cape Town, Port Elizabeth and Durban.
For Aspen, this new partnership presents the opportunity to effectively utilise and expand their extensive logistical infrastructure and expertise with Capespan as a shareholder and client of reference.
Capespan group managing director Johan Dique said the acquisition of Aspen would unlock significant synergies in its fruit logistics operations.
"With increasing regulations and complexities relating to the supply chain of fresh produce, Capespan is repositioning its fruit logistics division as a relevant logistical services organisation focused on present-day and future client needs,' he noted. 'The ultimate goal for Capespan is to provide all our customers with a 'best-in-class' access to global markets.
'Aspen represents a critical element towards achieving this objective,' Dique added. 'We are sourcing the best industry specialists and incorporating all the relevant infrastructure to guarantee this quality of service to our clients.'