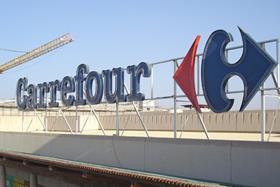 French retail giant Carrefour has announced the creation of a joint venture with Marinopoulos that will see the groups develop hypermarkets and supermarkets under the Carrefour banner in the Balkans.
The new joint company will launch the outlets across the region, which is made up of Albania, Bosnia & Herzegovina, Croatia, Macedonia, Montenegro, Serbia and Slovakia.
The joint venture will see 60 per cent of the chain owned by Marinopoulos and 40 per cent owned by Carrefour Marinopoulos, according to International Supermarket News.
As part of the deal, the retailers' joint subsidiary in Bulgaria will also be merged into the new entity. The companies, which have operated together in different areas for 17 years, also have ventures in Greece and Cyprus.