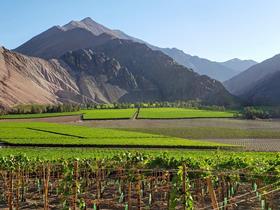 The devastating storms that struck some of Chile's biggest fruit growing regions last week are likely to lead to a significant shortage of Thompson Seedless grapes in the coming weeks, according to a major grower in the region.
"The affected plantations correspond to those located between the V and VII regions where on average it rained between 25 to 80mm," Compañía Frutera Santa María's Christian Corssen told Fruitnet.
"This has destroyed what was left to harvest of the early varieties such as Flame and Sugraone. However, for now it looks like the most affected variety is Thompson Seedless, where we estimate that our producers will lose 50 per cent of the crop."
Corssen said later varieties like Crimon and Red Globe were likely to be the least affected, but growers would nevertheless have to wait to see what happens with regard to skin splitting before being able to gauge the extent of the damage.
He added that a more accurate assessment would be carried out at the end of this week.
"Harvesting in the affected areas has stopped, at least until the end of this week, and by next week we'll be able to assess the impact on different programmes. But clearly there will be less volumes of Thompson," Corssen said.