Trade will gather to exchange key information regarding the upcoming cherry season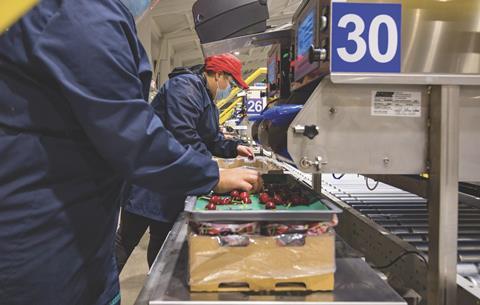 Cherries have great potential, but the sector will face important challenges in the coming years, both at a production, logistical and commercial level according to Claudia Soler, executive director of the Asoex Cherry Committee.
Speaking ahead of the fourth edition of the Global Cherry Summit, which takes place on 20 April at the Monticello Conference Centre in San Francisco de Mostazal, Chile, Soler said these and other issues will be discussed at the event, which will gather over 900 business leaders from key cherry producing countries, along with more than 70 sponsors and exhibitors.
The attendees include exporters, importers, marketers, retailers, researchers, and industry consultants. The event will provide for an exchange of key information regarding the upcoming cherry season.
Cherries have been one of the fastest growing fruits in Chile and around the world in the last decade. According to a USDA report from September 2022, world cherry production in 2022/23 was forecast to increase by over 220,000 tonnes to 4.7m tonnes, largely on surging output in Turkey and Chile.
Greater supplies are expected to lift imports slightly to 630,000 tonnes on higher shipments to the European Union and China. The expansion in supply and demand for this fruit, especially in the Chinese market, has made it a key part of the strategy of regional producers and exporters.
However, this expansion has been strongly affected by supply chain interruptions and other significant issues in logistics and production.
For this reason, the 2023 event has designed a programme that will present an analysis of cherry exports from the Southern Hemisphere to the markets of the US, the European Union and China and there will be a specialised panel for logistical considerations, to learn to navigate in the new scenario.
Attendees will also be able to access talks to exchange information and focus on what they will face in the following season.
Andrés Fuenzalida, general manager of Copefrut, a 70-year producer and exporter of traditional and organic fresh fruit and one of the five largest fruit companies in Chile, highlighted the value of the industry coming together.
"This conference is a meeting point for the leaders and players of the cherry industry in Chile," he said.
"It's a tremendous opportunity to jointly ensure the strengthening and growth of the business, and thus successfully overcome the great challenges that are projected in the sector."
Cristián Tagle, president of the Asoex Cherry Committee and commercial manager of Agrícola San Francisco Lo Garcés, commented: "The Global Cherry Summit is a timely and necessary happening, which brings together all the cherry players to assess, together, the challenges that this wonderful industry has ahead".