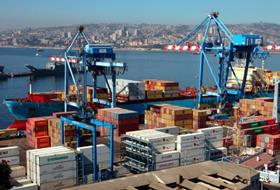 Chile has managed to maintain global food exports throughout the coronavirus pandemic thanks to the coordinated response to the crisis from the government and the private sector, according to ProChile.
With international trade accounting for 56 per cent of the country's GDP, safeguarding exports has been a priority for the government.
By implementing health protocols, adjustments to the logistics chain, customs measures and digital platforms run by ProChile, the country has succeeded in maintaining global exports at 97 per cent during the crisis, the government agency said.
The food industry, worth US$16.9bn in 2019 and the country's second largest sector after mining, has been the focus of most initiatives.
Chile exports food products to over 150 countries and is among the top 10 suppliers for 50 of them. In 2019, 23.8 per cent of exports went to the US, Chile's primary export market, 15.6 per cent to China and 15.4 per cent to the European Union.
"Right from the start of the health crisis, Chile has strived to maintain its international trade and stay true to its reputation as a solid and reliable supplier," ProChile said in a press release.
"Recognised for its safety and traceability standards and natural phytosanitary barriers which isolate its food products and keep them free of pests and diseases, the country has redoubled its efforts to ensure food quality and security while prioritising the health of the sector's workers."
ProChile said harvesting of seasonal products has been maintained at normal levels, with the Food Quality and Safety Agency stepping up safety measures at processing and packing plants.
"The entire industry has pulled together and agreed on a safety protocol for maintaining traceability while introducing more flexible work schedules, implementing separate shifts, monitoring staff, and sanitising plants and wineries to prevent contagion," it reported.
A key part of keeping Chile's export sector functioning has involved ProChile, together with other government agencies like the National Customs Service, accelerating digitisation efforts to facilitate information flow, export procedures and checks.
"Since the beginning of the crisis, ProChile's 56 offices worldwide have been active in supplying strategic information and helping importers from different countries with managing their logistics," the agency continued.
"The context has also provided an opportunity to promote the ChileB2B platform, a marketplace used to contact previously approved companies, identify business opportunities and organise exhibitions, business missions and virtual trading sessions."
ProChile said it had focused support on small and medium-sized companies which account for around 80,000 direct jobs.
The UN's Economic Commission for Latin American and the Caribbean estimates that the region's exports to China will decline by 21.7 per cent in 2020, while shiments to the US and EU will fall by 7.1 per cent and 8.9 per cent respectively.
While forecasts point to a drop in Chilean exports during the second quarter due to the paralysis of the major world economies, ProChile is confident that Chile will retain its position as one of the world's leading producers of fresh fruit, wine and salmon, among other products.