New estimate points to a 7.7 per cent fall in exports of fresh grapes this season
Asoex's Table Grape Committee has published its second estimate for the 2022/23 fresh grape export season. It forecasts a total export volume of 68.6m cartons (8.2kg), equivalent to a decrease of 7.7 per cent compared to 2021/22 and 2.8 per cent down on the earlier forecast.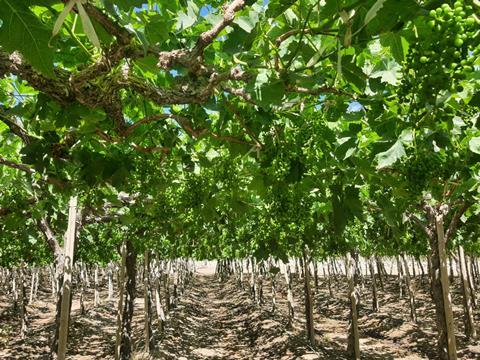 Iván Marambio, president of Asoex, said the second estimate showed an increase in exports of new varieties with respect to the previous forecast, and also in relation to shipments of traditional varieties and Red Globe.
"This shows signs of the varietal replacement that is taking place in the industry, and that explains in part, this decrease in total shipments," he said.
"The important thing here is that our table grape industry has prepared itself to have a better season than last, improve its competitiveness and offer the grapes that the market and consumers expect in terms of quality, flavour, safety and variety."
Shipments of new varieties are expected to reach 36.74m cartons, followed by traditional varieties with 20.37m cartons and Red Globe with 11,49m cartons. These last two varieties reflect a drop compared to the first forecast, which in the case of Red Globe is more than 850,000 cartons, and in the case of traditional varieties more than 1.8m cartons.
Likewise, when it comes to colour, white varieties are up compared to the first forecast, totalling 24.01m cartons, while red and black varieties are down on the previous forecast, reaching 26.63m and 6.47m cartons respectively.
Thompson Seedless and Sugraone are the two standout varieties in the white segments, while Crimson Seedless, Flame Seedless and Perlon lead the way in red varieties and Autumn Royal and Black Seedless top the league of new black varieties.
Regarding the shipments expected by market, the committee's coordinator, Ignacio Caballero, commented: "We will experience a drop in shipments to all our destination markets compared to the previous season. For the US we are anticipating a slight drop of 1 per cent, in Asia of 9 per cent and Europe of 27 per cent".
He added that the US will continue to be the main destination for Chilean table grapes, receiving around 38.62m cartons, followed by Asia with 14.80m and Europe with 9.12m. The remaining 6.07m cartons will be distributed among other markets.
The next forecast is scheduled for the end of November, with a final forecast due in December.